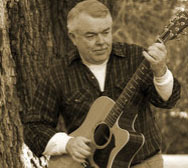 Raised on a farm near Camden, South Carolina, Carroll's first music influences were church music and night time radio. His mother was the church pianist and taught him his first chords on the guitar. Traditional southern gospel and bluegrass would give way to Jim Croce and James Taylor as he entered college. The first paying jobs paid college tuition but would pave the way for his life's work. He first tested the waters in New York but opted for Nashville, Tennessee. There, he worked with songwriters and music publishing and in various studios recording and helping produce nationally released records.

Family matters and money matters brought him back to South Carolina in 1981. He settled in Charleston, where he started a recording studio and music publishing business. A steady gig at the Mills House Hotel helped to pay for his growing family and the dream that refused to die. His family roots include Irish blood and his intense interest in the Irish music led to hosting annual visits to his ancestral homeland.

Today Carroll and his wife live on the family farm in Kershaw County where he was raised. Not much time for farming, but the gift of music his mother gave him is still his passion.  He is still performing full time in venues and festivals around the southeastern U.S. and he is still writing songs and releasing new recordings.
Carroll's albums and his performance schedule are on his website at www.carrollbrownmusic.com. You can learn about his overseas tours at www.facebook.com/4bigfun and catch his weekly live stream from the farm on his Facebook page at www.facebook.com/carroll.brown.161.