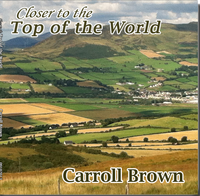 Len Jaffe, Maryland Writer, Columnist and Music Critic
CD Review / Carroll Brown
Closer To The Top Of The World
Having "friended" Carroll Brown as a fellow musician on the Internet almost ten years ago, I have grown to respect and enjoy his music, whether it be original contemporary folk, cover songs, or, as in this case, contemporary and traditional Irish-flavored material. "Closer To The Top Of The World" picks up where his currently out-of-print (a temporary situation, I hope) "Songs Of Ireland" leaves off. The overwhelming difference is that this new collection comes off as just a little bit darker overall than the previous release of ten years ago. The traditional "The Water Is Wide", Tommy Sands' "When The Boys Come Rollin' Home", and the late Tommy Makem's "The Liar", lend true authenticity to the set, but other songs, particularly Guy Clark's classic "Immigrant Eyes" (just as moving and effective a song about uprooting as Richard Leigh's "Innocence" was on the earlier disc) will surely bring tears to your eyes if you are breathing at all, Celtic flavored or otherwise . Carroll utilizes entries from a variety of songwriters, from renown individuals like Steve Earle to a multitude of lesser knowns, and the set is guaranteed to make you want to play it again after you've finished the first time. Carroll plays a variety of venues, primarily in the southeast part of the United States, and he has a repertoire that can fit in any style of acoustic singer/songwriter/guitarist stage you can name.
Charleston City

Paper - In The Jukebox
CD Review / Carroll Brown
Songwriter
Hot Saturday Night
Most songwriters maintain a private stock of songs, ones that require a bit of patience for the right moment to catch them up. Upstate S.C. songwriter Carroll Brown's latest release is that patience rewarded. Here, the Elgin-based singer/guitarist digs deep into his catalog, offering a baker's dozen of tunes. Some date back to his earliest days as a professional songwriter, effectively making this album a mini-retrospective of Brown's work as a solo and collaborative tunesmith. There's even a bit of each song's history included in the CD's lyric insert. From the bouncy album opener "Hot Saturday Night" to the lush and lyrical "Don't Be a Stranger," Songwriter demonstrates why Brown has been a consistent crowd-pleaser. These songs have proven themselves over the years, and, as a result, the album achieves a very polished vibe all the way through to the stealthy bonus track. Songwriter is an illuminating collection: one that spans decades yet feels fresh and wide-ranging. (www.carrollbrownmusic.com) —Jon Santiago 
---

CD Review on Nollaig An Irish Christmas
Carroll Brown and Harry O'Donoghue
Nollaig is all about masterful Irish folk singing and storytelling, not necessarily in that order. Carroll Brown and Harry O'Donoghue combine to make these eclectic selections spring to life. The unexpected is part of the pleasure here. Oh sure, you will recognize a few familiar holiday chestnuts. Most of the tracks, however, are unique surprises, and that was what these seasoned performers envisioned.
Song selection is key. Each track tells a particular story, and the holiday connection can be a bit attenuated. That's OK, though, because the strength is in the stories, and these universal tales enjoy better replayability through the year. The music is gentle, upbeat, sweetly endearing, and folksy in the most comfortable way.
O'Donoghue and Brown both sing on the album, and the liner notes don't confess who sings what. One "vocalist" is the more chatty, often speaking narratives in lieu of genuine song, and this storyteller is likely O'Donoghue. The other fellow -- Brown, I presume -- has a raspy voice that's rich with gravel. Together, the two complement each other nicely.
Christmas Island? Really? Not the sort of holiday number that I would expect from two Irish fellas, and just as I was writing this, the O'Donoghue/Brown duo broke into a dialogue about the (in)appropriateness of having the song on the album. Ireland is an island, after all. And that's the sort of eccentric fun that one should expect on Nollaig, complete with kazoo. The rugged, yet fragile, In the Bleak Midwinter was a sweet surprise, the subtle harmonies on The Saviour He is Born are downright inspirational, and the instrumental excellence on Silin's Waltz (for Cherrie)/It Came Upon a Midnight Clear had me tapping my toes.
Nollaig is a strange and wonderful amalgam of Irish narrative, high-spirited fun, and nostalgic introspection. I imagine that both Harry O'Donoghue and Carroll Brown are fantastic entertainers on stage; I wish I could pull up a front row seat. Irish-philes who favor a friendly brew on a cold winter night will easily toast this fine offering; others who sheepishly aspire to enjoy the luck o' the Irish should give this one a listen!
--Carol Swanson from www.christmasreviews.com
(Reviewed in 2009) 
---

CD Review of A Christmas Postcard
Frank Emerson, Carroll Brown & Harry O'Donoghue
Although Emerson, Brown and O'Donoghue are billed as an Irish act, I was hearing a wee bit o' the Nashville sound in their 2000 Christmas release, A Christmas Postcard. Don't get me wrong, I especially enjoyed their old-fashioned sentimental offering. Including Jim Croce's It Doesn't Have to Be that Way was a novel touch, as was the inspirational recitation of Henry Wadsworth Longfellow's I Heard the Bells on Christmas Day. Betwixt and between, the trio offer music that that is unpretentious and warm throughout. And although they eventually settle in for a trek through the holiday standards, they first stop to include the wonderful A Spaceman Came Traveling, a song I had missed hearing up to now. Pretty nice effort, beginning to end.
www.ChristmasReviews.com
--Richard Banks
(Reviewed in 2002)